Fish Creek Atlantic Salmon Club, inc.

PO Box 67, Sylvan Beach, NY 13157

Logo design courtesy of Tom Lenweaver
Stocking Atlantic salmon since 1997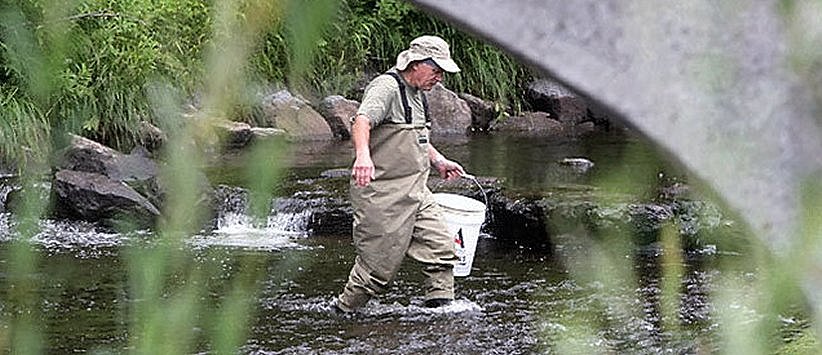 photo courtesy of Jim Commentucci
---
Please Note
Club metings are held the fourth Thursday of the month at the Camden Rod and Gun Club.
Latest Events
In Appreciation
The club is very thankful for Harden Furniture's help in building a new hatchery on the West Branch of Fish Creek. The club also appreciates Spey Nation for contributing the profits of their stream-side seminar to the Fish Creek Atlantic Salmon Club. And lastly, the club is grateful for the continuing support of fellow sportsmen, without which the club would not be able to continue with our efforts to restore Atlantic salmon to their native waters. Click here for information of Spey Nation's next stream side seminar.
On April 30, 2011 the Outdoorsmen of the Year Award was presented to our club at the Rusty Rail, Canastota, NY. The club appreciates the recognition of our efforts.
Please Note:
The club has a speakers program. We would be glad to make a presentation at a meeting or an event sponsored by your group. Please contact Paul Miller at 315 337-4079 or e-mail pmiller3825@yahoo.com .
---
Objective of the Club
The Fish Creek Atlantic Salmon Club, inc was formed in 1997 for the purposes of:
Restoring/re-introducing native Atlantic salmon and Brook Trout to Fish Creek and the Oswego River system as self sustaining species.
Cooperate with federal, state and local agencies to maintain and restore habitat critical to fish restoration including water quality, substrate quality, riparian condition, and adequate fish passage throughout the system.
Collaborate with other groups, organizations, watershed stake-holders in order to exchange information and minimize duplication of effort.
The objective of the club is to develop a coordinated, informed and supportable restoration effort for Atlantic salmon in the Oswego River system, using the best available technology and science with participation by interested individuals, Native Americans, non-profit, governmental and non-governmental agencies and groups. For more information on the club contact one of the club's officers.
---
Links

---
To comment about this web site, send E-mail to flyman21@verizon.net .
Comments are always welcome.
This site was last updated on April 25, 2015.